The legend of Zelda, Link's Awakening

20 septembre 2019

20 septembre 2019

20 septembre 2019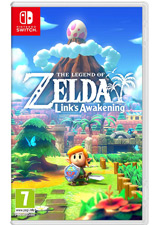 Nouveau : Découvrez de nouvelles fonctionnalités en vous connectant à votre compte
Petit héros, grande Aventure
Après une terrible tempête, Link fait naufrage sur une île mystérieuse
Pour pouvoir rentrer chez lui, il doit collecter divers instruments de musique disséminés aux quatre coins de l'île de Cocolint afin de réveiller son gardien: le Poisson-Rêve
Le classique de la console Game Boy, The Legend of Zelda: Link's Awakening, s'offre une nouvelle jeunesse sur Nintendo Switch, pour le plaisir des nostalgiques comme pour les nouveaux venus!
Profitez d'une version entièrement retravaillée, avec un style graphique unique et des thèmes musicaux réorchestrés, qui séduiront aussi bien les fans de la série que les nouveaux joueurs adeptes d'aventures!
Embarquez pour un voyage exceptionnel, explorez les différents donjons, affrontez des ennemis redoutables et tentez de lever le voile sur les mystères de l'île
Un nouveau mode de jeu vous permettant pour la première fois de créer vos propres donjons fait son entrée !
Les points positifs
Les points négatifs
Tous les amiibo compatibles
amiibo spécifiques
| | | | | | | |
| --- | --- | --- | --- | --- | --- | --- |
| Nom | Disponible | Vague | Rareté | Prix | Univers | Serie |
| Bokoblin | 03 mars 2017 | 3 | Commune | 16.99€ | The legend of Zelda | The Legend of Zelda |
| Daruk | 10 novembre 2017 | 5 | Peu Commune | 69.99€ | The legend of Zelda | The Legend of Zelda |
| Ganondorf | 26 juin 2015 | 7 | Peu Commune | 14.99€ | The legend of Zelda | Super Smash Bros. |
| Gardien | 03 mars 2017 | 3 | Rare | 24.99€ | The legend of Zelda | The Legend of Zelda |
| Link Archer | 03 mars 2017 | 3 | Commune | 14.99€ | The legend of Zelda | The Legend of Zelda |
| Link Cartoon | 23 janvier 2015 | 3 | Peu Commune | 14.99€ | The legend of Zelda | Super Smash Bros. |
| Link Cavalier | 03 mars 2017 | 3 | Commune | 14.99€ | The legend of Zelda | The Legend of Zelda |
| Link™ | 28 novembre 2014 | 1 | Peu Commune | 14.99€ | The legend of Zelda | Super Smash Bros. |
| Link jeune | 12 avril 2019 | 17 | Peu Commune | 14.99€ | The legend of Zelda | Super Smash Bros. |
| Link Loup | 04 mars 2016 | 1 | Peu Commune | 14.99€ | The legend of Zelda | The Legend of Zelda |
| Link - Majora's Mask | 23 juin 2017 | 4 | Rare | 14.99€ | The legend of Zelda | The Legend of Zelda |
| Link - Ocarina of Time | 01 décembre 2016 | 2 | Peu Commune | 14.99€ | The legend of Zelda | The Legend of Zelda |
| Link - Link's Awakening | 20 septembre 2019 | 6 | Commune | € | The legend of Zelda | The Legend of Zelda |
| Link - Skyward Sword | 23 juin 2017 | 4 | Rare | 14.99€ | The legend of Zelda | The Legend of Zelda |
| Link - The Legend of Zelda | 01 décembre 2016 | 2 | Peu Commune | 14.99€ | The legend of Zelda | The Legend of Zelda |
| Link - Twilight Princess | 23 juin 2017 | 4 | Rare | 14.99€ | The legend of Zelda | The Legend of Zelda |
| Mipha | 10 novembre 2017 | 5 | Peu Commune | 69.99€ | The legend of Zelda | The Legend of Zelda |
| Revali | 10 novembre 2017 | 5 | Peu Commune | 69.99€ | The legend of Zelda | The Legend of Zelda |
| Sheik | 23 janvier 2015 | 3 | Peu Commune | 14.99€ | The legend of Zelda | Super Smash Bros. |
| Toon Link - The Wind Waker | 01 décembre 2016 | 2 | Peu Commune | 14.99€ | The legend of Zelda | The Legend of Zelda |
| Toon Zelda - The Wind Waker | 01 décembre 2016 | 2 | Peu Commune | 14.99€ | The legend of Zelda | The Legend of Zelda |
| Urbosa | 10 novembre 2017 | 5 | Commune | 69.99€ | The legend of Zelda | The Legend of Zelda |
| Zelda | 19 décembre 2014 | 2 | Peu Commune | 14.99€ | The legend of Zelda | Super Smash Bros. |
| Zelda | 03 mars 2017 | 3 | Commune | 14.99€ | The legend of Zelda | The Legend of Zelda |
Autres amiibo utilisables

Remonter en haut de la page